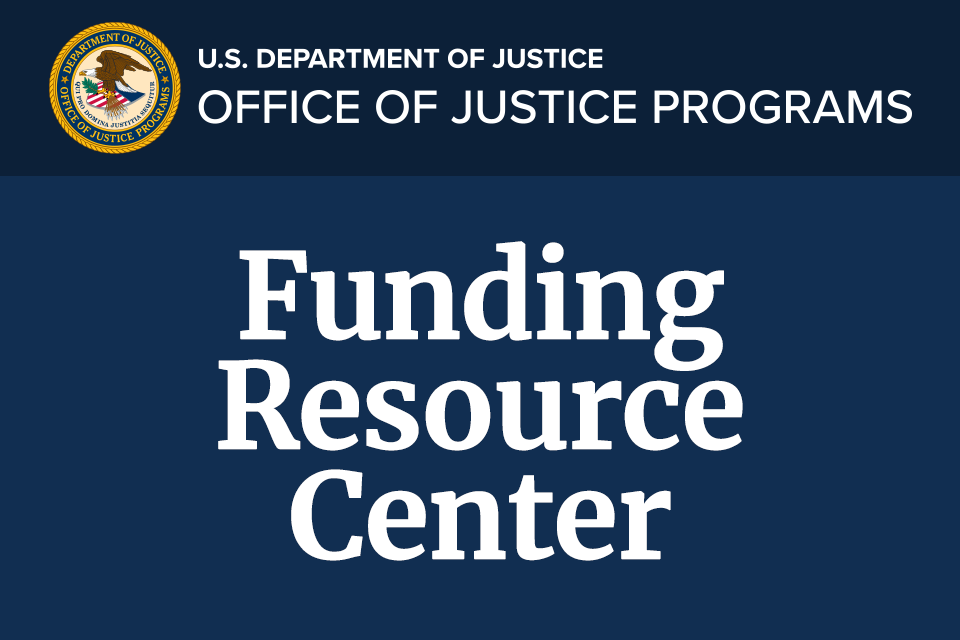 OJP provides federal leadership in developing the nation's capacity to prevent and control crime, administer justice, and assist victims. Contained on the OJP Funding Resource Center site is information about open solicitations, resources for applicants and grantees, grant procedures and requirements, links to State Administering Agencies, and additional grant-related resources.
Funding Notices
Sign up to receive the weekly Funding News email capturing information about solicitation releases and funding–related webinars from our OJP federal sponsors.
Related Resources
Bureau of Justice Assistance (BJA)
BJA supports law enforcement, courts, corrections, treatment, victim services, technology, and prevention initiatives that strengthen the nation's justice system. BJA provides funding and benefits through a number of programs for law enforcement.
Department of Homeland Security (DHS): Financial Assistance
DHS enhances the ability of states, local and tribal jurisdictions, and other regional authorities in the preparation, prevention, and response to terrorist attacks and other disasters, by distributing grant funds.
Justice Grants System (JustGrants)
JustGrants is a streamlined, end-to-end grants management system that provides applicants and grantees a straightforward user experience to help apply for and manage funding awards from OJP.
Grants.gov
On the Grants.gov website, you can find and apply for competitive grant opportunities from all federal grant-making agencies. You can also sign up to receive announcements of new federal grants and modifications of existing grant announcements from Grants.gov.
National Institute of Justice (NIJ)
NIJ is the research, development and evaluation agency of the U.S. Department of Justice and is dedicated to researching crime control and justice issues. NIJ funds research, development, and evaluation about criminal justice through competitive solicitations. The focus of the solicitations varies from year to year based on research priorities and available funding. The NIJ site contains Current Funding Opportunities as well as information about Forthcoming Solicitations. Visit the Guidance for Applicants & Awardees section of the NIJ site for useful information.
Office of Community Oriented Policing Services (COPS)
The mission of the COPS Office is to advance the practice of community policing as an effective strategy to improve public safety. The COPS Office awards grants to tribal, state, and local law enforcement agencies to hire and train community policing professionals, acquire and deploy cutting-edge crime-fighting technologies, and develop and test innovative policing strategies. The COPS site highlights funding programs and provides financial management resources.
Office of Juvenile Justice and Delinquency Prevention (OJJDP)
OJJDP sponsors research, program, and training initiatives; develops priorities and goals and sets policies to guide federal juvenile justice issues; disseminates information about juvenile justice issues; and awards funds to states to support local programming. OJJDP's Funding page provides access to current funding opportunities, guidance on how to apply, answers to frequently asked questions, and more.
Patrick Leahy Bulletproof Vest Partnership (BVP)
Created by the Bulletproof Vest Partnership Grant Act of 1998, the Patrick Leahy Bulletproof Vest Partnership (BVP) Program,administered by the Bureau of Justice Assistance (BJA), is a unique U.S. Department of Justice initiative designed to provide a critical resource to state and local law enforcement. Visit the BVP site and see the jurisdiction application checklist and the law enforcement agency application checklist to learn more.