Summit Promotes Justice for Rural Victims of Elder Abuse
Monday, November 26, 2018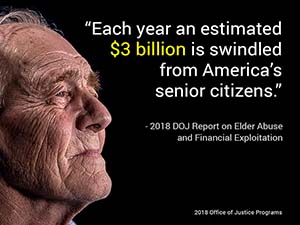 Americans aged 65 and older are among the fastest growing demographic groups in the U.S., rising from 35 million in 2000 to almost 50 million in 2016. About 20 percent of seniors live in rural communities, where geographic isolation can create a heightened sense of dependence on others and greater vulnerability to abuse, neglect and exploitation.
The Department of Justice and several federal, state and nonprofit organizations held a national Rural and Tribal Elder Summit on November 14-15 in Des Moines, Iowa, to discuss strategies for tackling this mounting and complex public safety issue. The Office of Justice Programs' Office for Victims of Crime sponsored the summit, which was an outgrowth of a joint statement of action announced by the Departments of Justice and Agriculture in June.
"Criminals tend to prey on seniors because of their retirement nest eggs," said Matt M. Dummermuth, OJP's Principal Deputy Assistant Attorney General, "and because seniors are often socially isolated, may have diminished capacity in handling financial matters and don't always know where to seek guidance when they are defrauded. We hope this summit, and federal and local partnerships, will help stop those who seek to steal from seniors and support those who have been stolen from."
Many rural and tribal areas have small police departments or sheriff's offices that cover large areas with few staff and minimal resources, making it difficult for law enforcement to conduct complicated fraud investigations. These cases often have international connections, which require federal jurisdiction and resources.
The Justice Department estimates that financial exploitation, the most common form of elder abuse, afflicts one in ten seniors. According to the "2018 DOJ Report on Elder Abuse and Financial Exploitation," each year an estimated $3 billion is swindled from America's senior citizens through mass-mailing and "grandparent" scams, fake prizes, fraudulent IRS refunds and extortion.
President Trump signed the bipartisan Elder Abuse Prevention and Prosecution Act into law on October 18, 2017. Since then, the Justice Department conducted the largest coordinated sweep of elder fraud cases in history. With help from all levels of government and the private sector, the Department charged more than 250 individuals. These cases resulted in the return of more than $220 million to victims.
Since 2016, using resources from the Victims of Crime Act (VOCA), at least 10 states plus the District of Columbia have funded programs to mitigate elder abuse. Projects include a justice team that provides legal and social services to elder abuse victims in California, transitional housing for seniors escaping abusive situations in Maine, and assistance to older victims as they navigate the criminal justice system in Oregon.
In Fiscal Year 2018, OVC provided competitive grants, totaling $2.98 million, to address the financial exploitation of elders. The programs will collaborate with service providers, law enforcement and the financial industry to strengthen fraud detection and provide appropriate services and resources for victims.
OJP provides additional publications, studies and research. These include publications, studies and research. These include the Bureau of Justice Assistance's "Legal Issues Related to Elder Abuse: A Pocket Guide for Law Enforcement"; the National Institute of Justice's research project, "Social Support Can Diminish the Negative Effects of Elder Abuse"; and OVC's guidance on "Developing an Elder Abuse Case Review Multidisciplinary Team."
"OVC is committed to helping the victims of elder abuse across our country," said Darlene Hutchinson, OVC Director. "We constantly strive to do all we can to see that our senior citizens live with peace of mind, a sense of security and the support of those they love."