This is an archive of an Office of Justice Programs blog. This page is no longer updated and may contain outdated information and links that no longer function.
Countering Opioid Overdoses
Monday, October 27, 2014
By Denise E. O'Donnell, Director, Bureau of Justice Assistance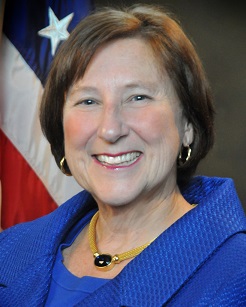 Every day, over 100 Americans die from drug overdoses, outnumbering deaths from gunshot wounds or motor vehicle crashes. More than half of these deaths involve opioids such as heroin and prescription pain relievers. In the five years between 2006 and 2010, heroin-related deaths in the United States rose a dramatic 45 percent. It's clear that opiate addiction is an urgent public health crisis.
Police officers and sheriffs' deputies are often the first on the scene of an overdose, and their actions can mean the difference between life and death. In March, Attorney General Eric Holder urged local law enforcement authorities to routinely carry naloxone, a drug proven to be effective at restoring breathing to a victim of on opioid overdose. And in July, he directed federal law enforcement agencies to review their policies to determine if their officers should be trained and equipped to carry naloxone and respond to these emergencies.
Today, I'm pleased that the Department of Justice has taken an additional step to ensure that officers are able to react quickly and effectively in the event of an acute heroin- or prescription-drug-related episode.?? The Law Enforcement Naloxone Toolkit and website, a one-stop clearinghouse of resources on naloxone, is now available to support law enforcement officers and first responders in the field. This website, available at https://bjatta.bja.ojp.gov/tools/naloxone/Naloxone-Background, offers more than 80 resources ??? from training guides and data collection forms to community outreach materials and standard operating procedures ??? from 30 contributing law enforcement and public health agencies.?? These resources can be downloaded and customized by users.?? Technical assistance is available through the naloxone website to help law enforcement departments develop or enhance naloxone programs.
This announcement follows up on guidance provided by an expert advisory panel that included leaders from the law enforcement and public health community, academia, and the federal government, including representatives from BJA, the Office of Justice Programs, the Drug Enforcement Administration, the Office of Communities Oriented Policing Services, the Office of National Drug Control Policy, the Center for Substance Abuse Treatment, the Substance Abuse and Mental Health Services Administration, the Bureau of Indian Affairs, and the Food and Drug Administration.
Every second counts during an overdose. This new Toolkit and website will give our law enforcement partners the support they need as they respond to these events, and it will help us confront a growing health and safety crisis. I encourage them, and others who have a role in addressing this challenge, to take full advantage of the information it contains.