This is an archive of an Office of Justice Programs blog. This page is no longer updated and may contain outdated information and links that no longer function.
Promoting Safe and Supportive Schools
October 2014
By Karol Mason, Assistant Attorney General for the Office of Justice Programs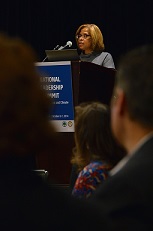 We'd all agree that acting out in school is both disrespectful and disruptive, but should a minor infraction like tardiness or a dress code violation earn a student suspension or expulsion? For some kids, that's exactly what happens, thanks to zero-tolerance disciplinary policies in place in school districts across the country. What's even more troubling, too often these removals from school begin a road to academic failure and even later involvement in the juvenile justice system.
Under a promising effort called the Supportive School Discipline Initiative, the Departments of Justice, Education, and Health and Human Services, in partnership with philanthropies, are helping to foster safe, supportive, and productive learning environments while keeping students in school. As part of the initiative, on October 6 and 7 we held a National Leadership Summit on School Climate and Discipline that brought together teams of educators and justice system professionals from 20 states and the District of Columbia to discuss how to improve school disciplinary practice and reduce student entry into the juvenile justice system. The summit provided the opportunity for states and local jurisdictions to develop strategies and begin taking steps toward disciplinary and juvenile justice reform. We also announced $4.3 million in grant awards to support activities designed to keep kids in school and out of court.
Kids should be held responsible for their behavior, but there are better alternatives to the harsh disciplinary methods being used in too many districts. By working with schools and justice system professionals, I believe we can find ways to keep our kids in school and on the path to learning and success.