This is an archive of an Office of Justice Programs blog. This page is no longer updated and may contain outdated information and links that no longer function.
New JAG Accountability Measures: Encouraging Success
Thursday, July 30, 2015
By Bureau of Justice Assistance Director Denise E. O'Donnell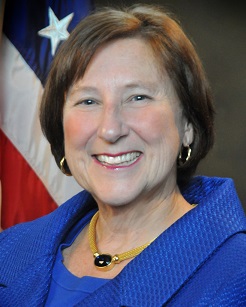 If the phrases "evidence-based" and "data-driven" seem to pop up a lot when you read Bureau of Justice Assistance solicitations, you've clearly been paying attention to a marked shift in emphasis in the design of our funding programs. BJA has built up a large and growing portfolio of grant efforts that rest on a solid foundation of knowledge, from our "Smart Suite," which pairs practitioners with researchers to address a host of justice system issues, to our Justice Reinvestment Initiative, which has helped states and local jurisdictions reduce incarceration rates, save money, and improve public safety.
Today, we are taking another major step toward cementing evidence in the bedrock of BJA programming. With the release of the revised Byrne Memorial Justice Assistance Grant (JAG) Accountability Measures, we are now asking recipients of our flagship grant program to tell us how they're applying evidence-based approaches to their work and how they involve the community in this work. This data ultimately will help state, local, and tribal agencies across the country find out about promising crime-reduction approaches and provide a clear picture of how JAG funding is supporting smart on crime programs.
JAG funding is the largest source of federal assistance for state, local, and tribal criminal justice programs. Our investments of over $2 billion since 2009 have prompted widespread innovation and generated substantial knowledge. The new JAG measures will help us maximize our returns by yielding data on JAG investments that we can share with the field. We're proud not only of the product, but of the process. We developed the measures in close association with a wide range of stakeholders, including national organizations, federal agencies, representatives of the vast majority of states and territories, and more than 130 local agencies.
What is especially notable about the new guidance is that while it is designed to expand knowledge and improve accountability, it will not impose a heavy burden on our many small-dollar grantees and it takes great pains to weed out perceived and unintended incentives, such as arrest counts, which are not a true measure of success. Our goals are simple: encourage success through the integration of evidence-based practices, while also ensuring that JAG projects are well-managed, project activities are transparent, and the overall field of criminal justice benefits from the information generated through the JAG program.
The new measures will take effect during the October to December 2015 reporting period, meaning that the first reports will be due January 30, 2016. Because the information we hope to collect is so important, we will schedule a series of online trainings for JAG recipients beginning in August. Check in with the JAG Measures website for announcements of the trainings. We will also continue our work to encourage the integration of research, data, and evaluation results. Our partnership with the National Criminal Justice Association and the Justice Statistical Research Association has produced new tools and avenues of assistance for JAG grantees.
The criminal justice field has come a long way in adapting data and research to the work of public safety. These new measures, applied to the federal government's most comprehensive justice funding program, inaugurate a new era of accountability and firmly establish evidence as the linchpin of criminal justice programming.