This is an archive of an Office of Justice Programs blog. This page is no longer updated and may contain outdated information and links that no longer function.
Public Safety Officer Medal Of Valor: Honoring Members Of The Public Safety Community
Tuesday, June 30, 2015
By Denise E. O'Donnell, Director, Bureau of Justice Assistance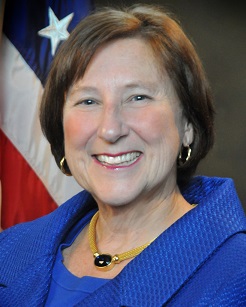 The Bureau of Justice Assistance (BJA), a component of the U.S. Department of Justice's Office of Justice Programs, is proud to stand with the White House to honor public safety officers. Every day, public safety officers risk their lives to protect America's citizens and communities. To honor that commitment, Congress passed the Public Safety Officer Medal of Valor Act of 2001, which created the Public Safety Officer Medal of Valor (MOV), the highest national award for valor by a public safety officer. The medal is to be awarded annually by the President or Vice President to public safety officers who have exhibited exceptional courage, regardless of personal safety, in the attempt to save or protect human life.
A "public safety officer" is a person (living or deceased) who is serving or has served in a public agency, with or without compensation, as a firefighter; law enforcement officer, including a corrections, court, or civil defense officer; or emergency services officer, as determined by the U.S. Attorney General.
An act of valor is defined as an action above and beyond the call of duty; and when a person exhibits exceptional courage, extraordinary decisiveness, and presence of mind as well as unusual swiftness of action, regardless of his or her personal safety, in an attempt to save or protect human life.
To receive the MOV, public safety officers must be nominated by the chief executive officer of their employing agencies, recommended by the bipartisan Medal of Valor Review Board, and cited by the Attorney General. All nominations for the 2014???2015 period must be submitted through the online application form. The nomination period is open until July 31, 2015 at 11:59 p.m. (EDT).
This year, we are proud to announce the first MOV informational video, providing application tips and tools. We encourage you to view and share the video with your associates who are interested in learning more about the nomination process and general MOV information. The web site also includes FAQs and a brochure to help you through the nomination process.
You can also view more information about past recipients and/or a video of the February 11, 2015 joint presentation ceremony honoring the 2011???2012 and 2012???2013 MOV recipients.
Public safety officers are essential to the well-being of our communities and they should be recognized for their acts of bravery. We encourage public safety agencies to nominate officer(s) who they feel qualify for this honor, so that the public can both acknowledge and celebrate their contributions and sacrifices made on behalf of the communities they serve.