This is an archive of an Office of Justice Programs blog. This page is no longer updated and may contain outdated information and links that no longer function.
Improving Student Safety on College Campuses
Wednesday, April 29, 2015
By Denise E. O'Donnell, Director, Bureau of Justice Assistance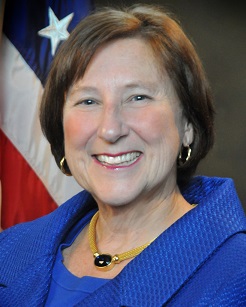 Student safety is a growing concern across the nation following news reports of sexual assaults on college campuses. In collaboration with the National Center for Campus Public Safety (NCCPS), the Bureau of Justice Assistance (BJA) has been actively assisting the campus public safety community with the proper handling of reports of sexual assaults on college campuses. BJA has provided various types of assistance, including pilot training programs, focus groups, and information dissemination.
The White House Task Force to Protect Students from Sexual Assault, via the Not Alone report, charged the NCCPS to develop a Trauma-Informed Sexual Assault Investigation and Adjudication training program for campus officials. To meet this mandate, we are working with nationally recognized experts on issues regarding sexual and gender violence investigations, Title IX, the Clery Act, victim's advocacy, student conduct, and psychology. Through this collaboration, we're developing the curriculum for this critical program. We are pleased to announce the execution of three pilot programs in Richmond, VA; Berkley, CA; and Jefferson City, MO.
The NCCPS held a two-day summit in partnership with the University of Wisconsin Police Department, the International Association of Campus Law Enforcement Administrators (IACLEA), and the International Association of Chiefs of Police (IACP). Campus officials from around the U.S. came together to discuss unresolved issues regarding Title IX, the Clery Act, the Violence Against Women Act (VAWA), and other related legislation. Presenters and attendees reviewed case studies specifically focused on the University of Connecticut and Amherst College. Following the event, NCCPS spearheaded the white paper, Practitioners' Discussion of Implementing Clery/Title IX.
We are continuing our collaboration with partners across the country to address the subject of sexual assault. BJA has begun leading a variety of focus groups, including a series surrounding the topic of reclaiming the spirit of the Clery Act. These groups engage in direct dialogue, pinpointing difficulties with the implementation of the Clery Act and developing specific recommendations for improvement.
NCCPS and BJA remain dedicated to improving student safety on college campuses. We're going beyond the development of materials, to provide first-rate training and resources to a wide audience through the NCCPS website. We urge members of the campus safety community to visit the website to sign up for the NCCPS Weekly Snapshot and other electronic messaging. Together, we can help make college campuses safer for all students.