This is an archive of an Office of Justice Programs blog. This page is no longer updated and may contain outdated information and links that no longer function.
Highlights of the DOJ Center for Faith-based and Neighborhood Partnerships
Tuesday, November 29, 2016
Courtesy of The Center for Faith-Based & Neighborhood Partnerships
Charity is no substitute for justice withheld.


-Saint Augustine
Saint Augustine's words embody the passion and efforts of the U.S. Department of Justice (DOJ) Center for Faith-based and Neighborhood Partnerships (CFBNP). Over the past eight years, CFBNP staff members have worked hard to address justice-related inequities that have existed for decades across the U.S. From leading activities that promote responsible fatherhood to organizing events that aid in building community trust, the DOJ Center has worked to help Americans in need. Below are a few of the activities and accomplishments of the DOJ CFBNP: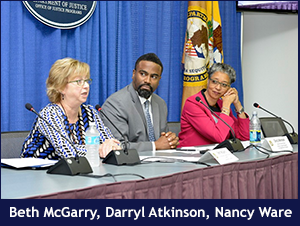 Reentry - The DOJ CFBNP has helped to expand the range of grantees and partners working in community-based reentry programs. The Center recognizes and supports the important role that community-based organizations (CBOs) ??? both faith-based and secular ??? have traditionally served in reaching and serving returning citizens. To enhance these efforts, the CFBNP has led webinars, participated in conferences and hosted events that convened hundreds of stakeholders from across the region to bring attention to important reentry practices and approaches occurring at the local levels and share information about how community-based organizations and institutions can become more intimately involved in the successful societal reintegration of individuals who are formerly incarcerated.
Preventing Youth Violence - At the direction of President Obama, the U.S. Departments of Justice and Education launched the National Forum on Youth Violence Prevention in 2010 to begin a national conversation on youth and gang violence. The goal of the Forum is to elevate youth and gang violence as an issue of national significance; enhance capacity at the local and national levels to prevent youth violence; and sustain progress and systems change through engagement, coordination and assessment. Since the Forum's inception, the DOJ CFBNP has helped build collaborative partnerships between local government, law enforcement and faith-based and community organizations. Center staff have helped participating jurisdictions develop balanced and comprehensive approaches to reducing our nation's homicide rate among youth, including connecting members of the faith community, nonprofit practitioners and community residents -- including youth -- with law enforcement, schools and other key stakeholders such as mayors, district attorneys and U.S. Attorneys, to develop local solutions to local problems.
Responsible Fatherhood - Recognizing the critical role of fathers in helping families flourish, DOJ's CFBNP has worked alongside faith-based and community organizations to promote responsible fatherhood. The Center has engaged CBOs across the nation to support family and father-friendly policies, highlight the importance of fathers in the lives of their children and develop coalitions to provide resources to men to help them be better dads. The CFBNP has helped lead DOJ's efforts to integrate fatherhood programming into departmental objectives and consider the effect of paternal incarceration on children and families.
Building Trust - The DOJ CFBNP has also devoted its efforts to building trust within our nation's communities. One endeavor includes hosting a monthly call within community-based leaders to discuss promising practices to strengthen communities. Additionally, the CFBNP collaborates with offices and bureaus within the federal government to convene community and national experts to discuss issues related to procedural justice, implicit bias and reconciliation. Through panels and interactive exercises, community-level practitioners share approaches for mitigating and overcoming bias, strengthening community dialogue and catalyzing change in their communities.
These activities provide only a glimpse into the efforts of the DOJ CFBNP over the course of this administration. The Center is driven by a passion to serve communities and ensure that all U.S. citizens have a fair chance to improve life outcomes. The DOJ CFBNP is committed to providing effective programs and assistance to help Americans from all communities and demographics pursue their dreams.