This is an archive of an Office of Justice Programs blog. This page is no longer updated and may contain outdated information and links that no longer function.
Studies Investigate Prevalence of Campus Sexual Assault
Thursday, April 14, 2016
Byline: Bethany Backes with Lisa Fedina and Jennifer Holmes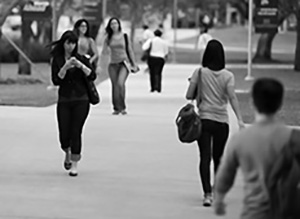 Colleges and universities across the U.S. are taking action to address campus sexual assault. The National Institute of Justice (NIJ) is helping in a number of ways. In addition to working with the White House Task Force to Protect Students from Sexual Assault, our scientists gathered and analyzed data to understand the scope of the problem. We systematically reviewed more than 100 empirical studies covering the range of prevalence rates reported in the last 15 years for various types of sexual assault on college campuses, such as physically forced rape, incapacitated rape, sexual coercion, and unwanted sexual contact.
We found that unwanted sexual contact and sexual coercion were the most common, followed by incapacitated rape1 and physically forced rape. The rates for each type of sexual victimization varied widely across studies, but one thing was clear: A substantial proportion of college students experienced sexual assault even in studies that found lower victimization rates.
Our goal was to assess how often different forms of sexual victimization occur on campuses and examine how research methods influence these findings. In other words, we wanted to understand how the research design, sampling techniques, and demographics or characteristics of a sample influence whether a study finds lower or higher prevalence rates.
The majority of studies on campus sexual assault use samples of predominately non-Hispanic white, heterosexual women attending four-year colleges. So our knowledge about how many students are assaulted on campus reflects this particular population.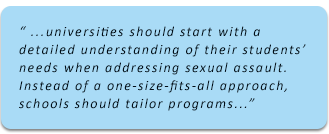 More research is needed on sexual assault on two-year and vocational college campuses, as well as among subpopulations of students also likely to be victimized, such as lesbian and bisexual women, sorority women, racial and ethnic minority women, and men and women with histories of victimization in childhood and adolescence.
Our study also showed that the extent of sexual assault, including different types of sexual victimization, varies from campus to campus. This means that universities should start with a detailed understanding of their students' needs when addressing sexual assault. Instead of a one-size-fits-all approach, schools should tailor programs to their students and staff.
Studies on campus sexual assault, including campus climate surveys, should measure each type of sexual assault separately and clearly define the behaviors that fall under each type. The studies also must distinguish between students' lifetime experiences of assault and sexual assault they have had since entering college. Many studies were excluded from our systematic review because they collected data only on students' lifetime experiences, making it unclear whether sexual assaults occurred while the students were attending or before they entered college.
In addition to measuring the number of students who have experienced sexual assault, we also need to learn more about how universities and colleges are investigating and adjudicating sexual assault cases. NIJ recently awarded a grant to researchers at Wellesley College who are beginning a systematic study of the policies and practices at 1,000 colleges and universities across the U.S. The findings are expected to help identify promising responses that give priority to the needs of the victim while holding offenders accountable. Preliminary results from the study should be available by the end of 2016.
Research on the prevalence of and response to sexual assault on campuses is more than an academic exercise. It is critical information campuses need to develop effective prevention and intervention programs and to determine where they can best place funding and resources to effectively respond to sexual assault and promote the safety of their students.
* * *
This blog is a follow-up to the April 2015 blog: Research About Sexual Assault on Campuses: What NIJ Is Doing
See NIJ's recently released solicitation, "Longitudinal Cohort Study of Interpersonal Violence among College-Aged Women and Men: Planning Phase".
Read our study, "Campus Sexual Assault: A Systematic Review of Prevalence Research from 2000 to 2015".
Download the White House Task Force to Protect Students from Sexual Assault resource guide.
1 Incapacitated rape is defined as completed vaginal, anal or oral intercourse while the victim is intoxicated or on drugs.