This is an archive of an Office of Justice Programs blog. This page is no longer updated and may contain outdated information and links that no longer function.
The Many Victims of Wrongful Convictions
Monday, February 29, 2016
By Assistant Attorney General Karol V. Mason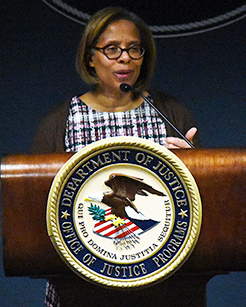 In 2010, Michael VonAllmen ??? a Kentucky man who served 11 years in prison after being wrongfully convicted of rape ??? was cleared of all charges. A year later, a man from Texas named Johnny Pinchback was exonerated after serving more than 26 years for two sexual assaults he didn't commit. That same year, Thomas Haynesworth was freed from prison after prosecutors and the Virginia Attorney General joined in asking for his release based on DNA evidence. He had served 27 years.
VonAllmen, Pinchback, and Haynesworth are among 26 people to be exonerated through a postconviction DNA testing program managed by our National Institute of Justice (NIJ), and they are 3 of more than 1,740 people who, since 1989, have been cleared of criminal charges of which they were innocent.
We rightfully celebrate these exonerations, but we too often fail to consider that being released does not resolve the anguish of a wrongful conviction. For exonerees, the joy of returning home never quite overcomes the feelings of bewilderment, betrayal, and loss.
Last week, I had the privilege of hearing from seven remarkable individuals about their experiences as victims of wrongful convictions. The opportunity came as part of two listening sessions organized by NIJ in cooperation with our Office for Victims of Crime, Bureau of Justice Assistance, and Center for Faith-Based and Neighborhood Partnerships ??? as well as the Healing Justice Project, the Eighth Amendment Project, Witness to Innocence, and the Innocence Project. I listened as they talked about the shock of being arrested, their nightmare ride through the courts, and the horror and finally the grim acceptance of being locked away. Their stories were heartbreaking; they had suffered the ultimate outrage ??? of being wrongly deprived of their liberty ??? but there was no help and rarely even an apology waiting when they were freed.
A somewhat different pain was conveyed by five women who had endured the trauma of rape and other serious crimes only to be retraumatized when it was discovered that the men they thought were their perpetrators had been misidentified. These original victims explained what it was like to have their sense of order shaken. They described a world turned upside down, one in which they were no longer the only ones aggrieved and in which they even felt culpable. They, too, had few places to turn for support.
For both original victims and exonerees, wrongful convictions represent an unspeakable miscarriage of justice, one for which few remedial services are available. The Office of Justice Programs is working to find solutions designed to prevent wrongful convictions and provide the needed services and support for both exonerees and original victims.
Last week's listening sessions, which were intended to guide us in developing policies, programs, and a research agenda, built on activities already underway. Our National Institute of Justice has conducted research on the factors leading to wrongful convictions and is helping state, local, and tribal agencies test DNA to substantiate innocence. Our Office for Victims of Crime hosted a forum to gain a better understanding of how an exoneration affects the original victim. Our Bureau of Justice Assistance has supported Conviction Integrity Units and helped prosecutors work to eliminate errors that can lead to wrongful convictions. And we partnered with the International Association of Chiefs of Police to produce a set of policies and practices aimed at preventing wrongful convictions in the future.
Wrongful convictions are among the most serious challenges we face in criminal justice today. They implicate our institutions of law and order. They raise questions about the system's legitimacy. And they compromise public safety. Most of all, they damage and sometimes destroy lives ??? the lives of exonerees, original victims, their families, and others whose safety is put at risk when a true perpetrator is allowed to go free.
We have a responsibility to prevent these tragic failures and address the collateral harm associated with them. Hearing from those who are most directly affected is vital if we hope to prevent other innocent people from suffering the same injustice, indignity, and pain.