This is an archive of an Office of Justice Programs blog. This page is no longer updated and may contain outdated information and links that no longer function.
The Pitfalls of Youth Incarceration
Thursday, December 8, 2016
By Assistant Attorney General Karol V. Mason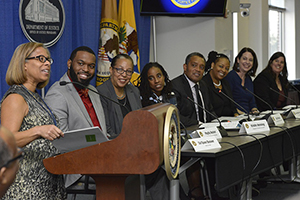 Imagine the reaction 20 years ago, during the tough-on-crime 90s, if word leaked that justice system professionals were talking about shutting down our nation's youth prisons. With politicians and policymakers sounding alarms about a coming wave of juvenile superpredators, any such discussion would have been greeted with an outcry. More prisons, not fewer, were needed to meet the demand for public safety in those fearful days.
What would have been almost unthinkable two decades ago happened recently at a meeting hosted by the Office of Justice Programs. On Oct. 21, I joined the Director of our National Institute of Justice, Nancy Rodriguez; the Administrator of our Office of Juvenile Justice and Delinquency Prevention, Bob Listenbee; and juvenile justice experts from across the country for a conversation about youth incarceration.
The launching point for the discussion was a paper commissioned by the Harvard Executive Session on Community Corrections, a project funded by NIJ. The authors ??? Patrick McCarthy, Vincent Schiraldi and Miriam Shark ??? argue for closing America's youth prisons, citing studies on adolescent development and juvenile punishment suggesting that youth confinement is unnecessary and even counterproductive. They point out that the few young people who do need to be placed in residential facilities are better served by small, home-like facilities near their communities
On a given day, nearly 51,000 youth are held for offenses in secure and non-secure residential detention and placement facilities nationwide. More than 60 percent are in for non-violent offenses. When children and teens are unnecessarily locked away, neither they nor public safety as a whole benefits. The youth prison model aggravates the trauma that many justice-involved kids have already experienced in their young lives, and it sends a searing message of worthlessness.
Too often, our society has seen young people and their behavior through the refracted lens of the justice system. We view disciplinary issues in school as gateways to crime. We characterize poor judgment and bad decisions as proof of incorrigibility. We see patterns of delinquency, not as an opportunity for intervention, but as an invitation to punish. These attitudes create an environment that is hospitable to harsh sanctions like imprisonment, which, as research tells us, is a far-from-optimal response to youthful offending. We are due ??? overdue, really ??? for a reconsideration of juvenile incarceration.
For the vast majority of youth, incarceration makes little sense. It is one of the factors ??? along with early exposure to trauma ??? that is likely to contribute to future offending. And studies show that most young people naturally age out of criminal and delinquent behavior anyway. This means, of course, that a response focused on locking youth away is misdirected at best, harmful at worst. Instead, we should reserve incarceration for the most serious cases, relying on prosocial, evidence- and community-based alternatives that give young people an opportunity to change. For the few youth who need to be in secure facilities, we should make sure that those institutions can respond to the developmental needs of those in their charge.
There is another major concern about incarceration as it is practiced in youth facilities: it disproportionately affects young people of color. In 2013, the placement rate for minority youth in residential facilities was 2.7 times that of white youth. For black youth awaiting adjudication or disposition, the national detention rate was nearly six times the rate for white youth. It is worth noting that similar imbalances exist at every access point in the juvenile justice system. These disparities are the result of long-standing institutional deficiencies and mask the heroic efforts of countless juvenile justice professionals. Nevertheless, they undermine the principles of fairness and equal treatment our justice system is supposed to represent.
It is time that we deal with youth in a way that is consistent with what we know about their development and in a manner that reinforces their dignity and self-worth. We must hold young people accountable for the wrongs they do, but at the same time we must treat them not as the criminals we fear they will become but as the contributors we wish them to be. Re-thinking youth imprisonment is one big step we can take toward that goal.