This is an archive of an Office of Justice Programs blog. This page is no longer updated and may contain outdated information and links that no longer function.
Determining the Ability of Computer Algorithms to Forecast Crime
Thursday, January 5, 2017
By Chris Tillery, Director, Office of Science and Technology, National Institute of Justice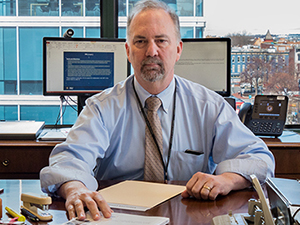 How accurate can crime forecasting technology be?
To find out, the National Institute of Justice (NIJ) is holding a Real-Time Forecasting Challenge. NIJ hopes to harness the rapid advances in data science seen in other fields to advance forecasting algorithms to help improve policing practices.
The Challenge will examine how efficiently and effectively a contestant's algorithm can forecast crime in Portland, Oregon, based on five years of calls-for-service data provided by the Portland Police Bureau. Contestants are not limited to using the calls-for-service, but may also use any other data sets that may be useful.
Each forecast can be for one of four crime categories ??? burglary, street crime, auto theft or all calls-for-service ??? and for one of five timeframes ??? one week, two weeks, one month, two months or three months. Contestants may compete in as many of the categories as they wish.
NIJ will judge submissions based on the effectiveness and efficiency of the forecast for a particular type of crime over a specified period in comparison to actual calls-for-service for that period.
All submissions are due by midnight Eastern Time, February 28, 2017.
The calls-for-service from the Portland Police Bureau for each of the five time periods will be posted to NIJ.gov on June 7, 2017, to allow contestants to compare the actual data to their submissions.
Contestants may participate in any one of three eligibility categories: students, small teams/small businesses (of one to 20 individuals) and large businesses. Up to $1.2 million in prize money is available. NIJ will announce the winners on or about June 30, 2017.

NIJ expects the Real-Time Forecasting Challenge to provide police agencies, policymakers and communities with a better understanding of the accuracy of crime forecasting, so they can make informed decisions about the most effective way to deploy their resources to ensure public safety.
Learn more about the Challenge and how to participate.