This is an archive of an Office of Justice Programs blog. This page is no longer updated and may contain outdated information and links that no longer function.
New OJP Partnership Identifies 190 Missing Persons ??? and Counting
Friday, July 14, 2017
Richard Kuiper last heard about his daughter Andrea decades ago, when she was 26, when a friend who had recently seen her said she was safe.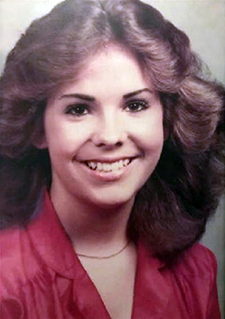 Then, in May of this year, authorities gave him a message every parent dreads to hear. Andrea was dead, hit by two cars in Huntington Beach, California, as she attempted to cross the Pacific Coast Highway in 1990.
As painful as the news was to hear, just knowing what had happened provided a measure of consolation. "We are thankful to know what happened to our daughter after all these years," said Mr. Kuiper of Northern Virginia, in a statement to the Orange County (California) Sheriff's Department. "Andrea was loved and respected. She was beautiful. But she was manic depressive, and therefore we had been through quite an adventure."
In the years between Andrea's death and the call to her family, the California authorities made many efforts to identify the young woman who died so tragically. They were able to learn that her name was possibly "Andrea" and that she may have come from Virginia.
Investigators provided the little they knew about "Andrea" to the National Center for Missing and Exploited Children. NCMEC created images of what she might have looked like before the accident and released them to the media. Investigators searched available databases and missing person reports. The TV program "Unsolved Mysteries" featured the story. Still, they found no match. No one stepped forward to identify her.
The case grew cold.
Then, about seven years ago, when a searchable database called the National Missing and Unidentified Persons System (NamUs; pronounced name-us) opened, investigators placed "Andrea's" information into it. Still there was no match.
In March of this year, a new collaboration began between the Office of Justice Programs' National Institute of Justice and the FBI Laboratory. "Andrea's" fingerprints were sent to the FBI where a new technology, known as Next Generation Identification, along with enhanced processing protocols, was improving the odds of identification. Identifications are increasing even with poor quality prints or with those that have been searched in the past.
One such match was the unidentified person known as "Andrea": Andrea Kuiper of Fairfax, Virginia, the daughter of Richard Kuiper.
Since March, when NIJ's NamUs began to resubmit all of its fingerprints from unidentified persons cases, the partnership has resulted in more than 190 identifications.
"This degree of successful identification is unprecedented," said Alan Hanson, OJP's Acting Assistant Attorney General. "Forensic science is a powerful tool, one that can help solve difficult cases, bring perpetrators to justice and prevent crime."
"The importance of identifying human remains???to the family, absolutely, and to the law enforcement community???cannot be underestimated."
Approximately 4,400 unidentified human remains are found every year, and investigations are unable to uncover the identity of approximately 1,000 of them. These numbers, and the pain and unanswered questions of the loved ones left behind, led NIJ to develop NamUs to help solve cases involving unidentified human remains. These identifications are important to solving crimes and protecting the public.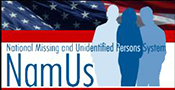 Launched in 2008, NamUs provides a broader, better-organized and more-centralized database than before. The records are accessible nationwide to officials and members of the public. They can search unidentified persons cases by demographics, physical characteristics, case numbers or other specific criteria. Those who register can get customized searches and receive automatic e-mails when updates occur. Officials across the United States add new records every day, increasing the chances that the nameless will be identified.
"NamUs is the nexus of all the work that was being done independently," said former Clark County Coroner Mike Murphy of Las Vegas in the NIJ Journal. "It is a 'one-stop shop' where law enforcement, medical examiners, coroners, families, anyone who is involved and touched by a missing- persons case can go for information. . . . It gives families a place to be. It makes them feel like they are now part of the solution."
NamUs connects those searching for the missing. It has fostered constant communication among law enforcement, medical examiners, coroners, and families and created official liaisons for the groups. It is especially helpful in interstate cases, which too often fall through the cracks of separate jurisdictions.
While knowing what happened to a missing loved one can be painful, for some families NamUs takes away the ache of not knowing.