This is an archive of an Office of Justice Programs blog. This page is no longer updated and may contain outdated information and links that no longer function.
Police Week 2017: OJP's Commitment to Officer Safety
Monday, May 15, 2017
By Alan R. Hanson, Acting Assistant Attorney General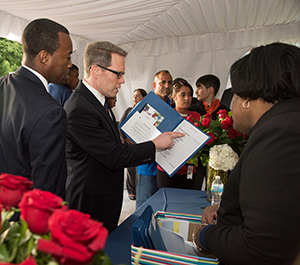 National Police Week opened with the annual candlelight vigil on the National Mall on the evening of May 13, honoring officers who have fallen in the line of duty.
I had the privilege of joining Attorney General Sessions as we paid our respects to the fallen and showed our gratitude for all the men and women who wear the badge. I am hopeful that our work at the Department of Justice and the Office of Justice Programs will help reduce the egregious losses experienced by the law enforcement community and their loved ones.
As Attorney General Sessions has observed, law enforcement continues to be a dangerous ??? and deadly ??? job. Though that danger can never be wiped out, we are striving to reduce it.
In the first days of his Administration, President Trump signed the Executive Order on Preventing Violence Against Federal, State, Tribal and Local Law Enforcement. The order directed the Justice Department to take the lead in developing a strategy to reduce violence against law enforcement officers. That strategy includes enforcing all federal laws pertaining to police protection; developing methods to enhance officers' safety; and pursuing legislation that will define new penalties for crimes of violence against police.
I'm pleased that OJP is working hard, in the spirit of the President's executive order, to protect America's law enforcement officers.
In addition to being the primary source of federal support for state, local and tribal law enforcement through the Byrne Memorial Justice Assistance Grants Program, we are a major source of safe and effective bullet-resistant armor for police officers.
The Bulletproof Vest Partnership is designed to provide critical resources to state, local and tribal law enforcement agencies to purchase bullet-resistant body armor for sworn law enforcement officers. Administered by the Bureau of Justice Assistance since 1999, the partnership has awarded $430 million to over 13,000 jurisdictions throughout the nation to assist in purchasing more than 1.2 million body armors.??
It is worth noting that in the last 30 years, body armor has saved more than 3,000 police officers from death or serious injury.
Modern police body armor came into use through research funded by the National Institute of Justice in the mid-1970s. NIJ develops and maintains the national performance standards for body armor. Since 1978, NIJ has tested body armor to ensure that it is effective and maintains a list of those that meet the requirements of those standards. NIJ provides officers guidance on how to select, wear and maintain their vests. Also NIJ has underwritten important studies on issues of officer health and wellness, including roadside safety and factors that contribute to stress and fatigue.
BJA works to ensure officer safety and wellness through training and resources that keep their skills at the cutting edge. Its VALOR initiative provides tools???training, research and other resources???to prevent violent encounters and improve officer resilience. VALOR has reached more than 28,800 law enforcement officers to date.
BJA's Blue Courage training program is designed to build resilience, reignite passion, and renew awareness and understanding of the honor of policing. It serves and protects those who protect and serve. Blue Courage has reached over 68,000 law enforcement officers.
Finally, since 1987 the Bureau of Justice Statistics has periodically collected data for the Law Enforcement Management and Administrative Survey, or LEMAS. BJS surveys more than 3,000 law enforcement agencies on topics such as equipment and technology, personnel matters, use-of-force, and hiring and training priorities. The data are used in a number of reports that help agencies more effectively support their officers.
OJP will continue to focus on improving officer safety???through developing effective and innovative equipment, and offering training, tools and resources, all based on solid science and research. As the Attorney General said, "We will support the brave men and women of law enforcement, as they work day and night to protect us."