This is an archive of an Office of Justice Programs blog. This page is no longer updated and may contain outdated information and links that no longer function.
2017 National Sexual Assault Awareness and Prevention Month
OJP Works to Serve Victims of Sexual Assault
Wednesday, April 26, 2017
By Acting Assistant Attorney General Alan R. Hanson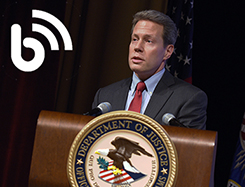 April is National Sexual Assault Awareness and Prevention Month, an opportunity to underscore the scourge of sexual assault on our society and the trauma this violent crime imposes on its victims. A 2011 study from the Centers for Disease Control found that one in five women and one in 58 men were raped in their lifetime.
Sexual violence exacts a heavy toll. It can harm victims' relationships with others and complicate their ability to work. It can lead to eating disorders, anxiety, depression and post-traumatic stress disorder. It turns victims' lives upside down. Yet some survivors use their experience to bring hope and healing to others walking the same path.
On April 7, I had the privilege of participating, for my first time, in the Office for Victims of Crimes' ceremony for the National Crime Victims' Service Awards. The annual ceremony is part of National Crime Victims' Rights Week, observed this year April 2???8. I was deeply moved by the courage and commitment of all 12 awardees. Five of the recipients were honored specifically for their extraordinary efforts to assist victims of sexual assault.

Linda D. Axley has devoted 37 years to victim advocacy in Tahlequah, Okla. As an intern psychologist in the county health department, she started a crisis line in her own home. She organized community members to provide safe spaces for women and children in crisis, and formed Help In Crisis in 1980. Many who come to her organization are Cherokee tribal citizens and under 12 years old.

Laura L. Dunn, a survivor of campus sexual assault, formed SurvJustice in 2010. It has become the only national nonprofit organization that provides legal representation to victims in campus disciplinary hearings. SurvJustice has partnered with national organizations to develop a training academy for campus advocates and victim rights' attorneys on how to represent survivors in campus hearings.

Diane Moyer has worked tirelessly to ensure that federal legislation addresses the needs of sexual assault victims. She trains prosecutors nationwide on the prosecution of non-stranger rape. As Legal Director of the Pennsylvania Coalition Against Rape, she worked to implement state reforms. These include increased penalties for drug-induced rape and extension of the civil statute of limitations for child victims.

Teresa P. Scalzo, who died of cancer on May 23, 2016, was Deputy Director of the Trial Assistance Program of the Navy Judge Advocate General's Corps. She was the Navy's foremost expert on how women and men can protect themselves from sexual assault. Her innovative practices and resources are widely used throughout the criminal justice system.

Maya Weinstein turned her own sexual assault as an undergraduate into an opportunity to help others. Since 2012, she has supported survivors within her sorority and has conducted educational events with fraternities and sororities at George Washington University. Through internships with the Washington, D.C., Metropolitan Police Department Sexual Assault Unit and Major Crimes Unit, and with the National Center for Victims of Crime, she has interviewed victims and suspects, documented evidence and tracked legislation.
Honoring the contributions of outstanding victim advocates like these helps to focus national attention on the issues facing sexual assault survivors, including cases that have gone unresolved for too long. At OJP, we are taking steps to bring justice to victims who have waited years, sometimes decades, to receive it. Our Bureau of Justice Assistance provides grants to reduce the backlog of untested sexual assault kits and prevent it from growing again, link victims to advocates and services, help bring the guilty to justice and increase the safety of communities. As a result, in Wayne County, Mich., more than 60 sexual assault offenders have been convicted, and in Cuyahoga County, Ohio, the information helped law enforcement link a serial rapist to seven cases.
Our National Institute of Justice provides resources and funding to enable the testing of sexual assault kits. For example, the Las Vegas Metropolitan Police Department is receiving support through two NIJ programs. The increased testing has already resulted in one jury trial and 43 leads obtained through the FBI's Combined DNA Index System. Also, NIJ will soon release two new reports describing multidisciplinary approaches to sexual assault kits and detailing progress made through its forensic science programs.
Providing services to and justice for sexual assault victims is a vital part of our mission at the Office of Justice Programs. We will continue to support these victims through research, resources and programs that help them move from victims to survivors.