This is an archive of an Office of Justice Programs blog. This page is no longer updated and may contain outdated information and links that no longer function.
Commemorating 50 Years of Justice and Safety
Thursday, July 19, 2018
By Principal Deputy Assistant Attorney General Alan R. Hanson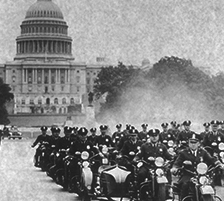 This year marks half a century of concentrated federal involvement in state and local crime fighting.
President Lyndon Johnson signed into law the Omnibus Crime Control and Safe Streets Act on June 19, 1968, setting up the Law Enforcement Assistance Administration. Part of a larger national response to rising crime in the '60s, the creation of the LEAA launched a period of federal, state and local partnership that continues to this day under the direction of the Office of Justice Programs.
Several key LEAA initiatives remain OJP priorities today:
The distribution of grants to help communities prevent and reduce crime
Beginning in 1971, the development of body armor that has saved the lives of more than 3,000 officers nationwide
The administration, starting in 1972, of the National Crime Victimization Survey, which remains the nation's primary source of statistical information on criminal victimization, including crimes not reported to the police
The disbursement since 1976 of death and education benefits to the survivors of fallen officers and first responders through the Public Safety Officers' Benefits Program
Support for the nationwide movement to protect children, culminating in the 1984 creation of the National Center for Missing and Exploited Children
LEAA's creation was a response to President Johnson's Commission on Law Enforcement and Administration of Justice, a 19-member panel of criminal justice experts and others tasked with diagnosing the problem of surging crime in America's cities. Between 1964 and 1967, the violent crime rate in the United States had risen by almost 25 percent, making public safety an issue of tremendous concern to many Americans.
The commission's final report, The Challenge of Crime in a Free Society, offered more than 200 recommendations covering every segment of the criminal justice system and laid the foundation for a national crime and justice policy. The report called for an office in the Department of Justice to support state and local law enforcement.
Even before the LEAA was memorialized in legislation, President Johnson described the task ahead. "The problems of crime," he said, "bring us together. Even as we join in common action, we know there can be no instant victory. Ancient evils do not yield to easy conquest. We cannot limit our efforts to enemies we can see. We must, with equal resolve, seek out new knowledge, new techniques, and new understanding."
The LEAA would go on to award grants, conduct research and engage with state and local criminal justice agencies. It officially became the Office of Justice Programs in 1984 and remains the most comprehensive source of criminal justice research, statistics and funding assistance in the federal government.
Violence, drugs and gangs continue to plague America's cities today. OJP's mission ??? to help fight crime, serve victims, strengthen our criminal and juvenile justice systems, and expand our base of public safety knowledge ??? remains as relevant and as necessary as ever. We will continue the hard work of keeping citizens safe by providing justice system professionals the resources they need and by helping our state, local and tribal partners secure peace and prosperity for all those under their protection.