This is an archive of an Office of Justice Programs blog. This page is no longer updated and may contain outdated information and links that no longer function.
OJP Protects Our Protectors
Tuesday, May 15, 2018
By Alan R. Hanson, Principal Deputy Assistant Attorney General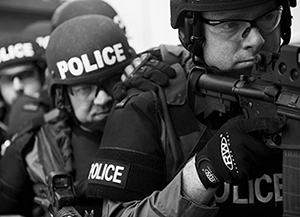 Danger is so intrinsic to policing that officers must learn not only how to avoid harm, but how to think through what to do on the spot if they—or a colleague with them in the field—come under fire.
A gunfight in Randolph County, Alabama, illustrates this in the starkest terms. It occurred nearly two years ago, when Game Warden and Officer Thomas Traylor responded to a 911 call. The call involved a man who had shown up on his son's property, where he shot at his son, killed his dogs, and set fire to his car and workshop.
Deputy Donny Grant Jr. was the first officer to arrive at the scene. The suspect shot him, leaving the deputy lying nearby, wounded and exposed to further gunfire.
Officer Traylor soon arrived, as did two state troopers. Applying skills he learned in active shooter training sponsored by the Office of Justice Programs, Traylor distracted the suspect with rifle fire while the troopers pulled the injured deputy to safety. Then he tossed them a tourniquet to staunch the deputy's bleeding.
After a standoff lasting several hours, and involving law enforcement from several agencies, the suspect took his own life.
According to Matt Weathers, Chief of Enforcement at the Alabama Department of Conservation and Natural Resources, Officer Traylor had recently completed active shooter training, part of the VALOR Initiative, funded by OJP's Bureau of Justice Assistance. A certified instructor himself, Chief Weathers had overseen the training and certification of 140 officers.
"The active shooter training is valuable because it gives us a common tactic to assist other local agencies," Weathers said. "It has provided our officers with tools to save lives on no less than three occasions."
Through VALOR, OJP also provides workshops on topics such as indicators of potentially dangerous situations and defusing/de-escalation skills. These trainings aim to protect the public, and to improve officers' immediate and long-term safety.
Thankfully, Deputy Grant survived and returned to duty. The active shooter training is credited with playing a critical role in this outcome.
Since 2002, the active shooter program has trained more than 130,000 officers working in every U.S. state. The initiative also works with the FBI to deliver the training. OJP pledges to continue to support active shooter training to keep our officers—and our communities—safer.