This is an archive of an Office of Justice Programs blog. This page is no longer updated and may contain outdated information and links that no longer function.
Publicly Available Database Helps Families Find the Missing
Tuesday, May 22, 2018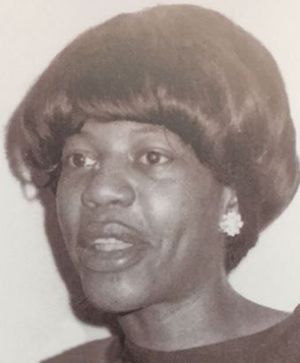 On a September afternoon in 2016, Mitchell A. Johnson watched from the other side of yellow police tape as police officers and forensic anthropologists hoping to solve "cold cases" exhumed the remains of three unidentified people at a Pennsylvania cemetery.
Pennsylvania State Police Corporal Shawn Williams approached Johnson, who had read about the exhumation in a newspaper. He learned that Johnson's interest was in the remains of one woman in particular, designated by police as "Jane Doe 1970" for the year a passerby found her body near Interstate 81. Police investigated her suspicious death at the time but were unable to identify her.
Johnson told Corporal Williams about his aunt, Lucille Marie Frye, who went missing from Wilkes Barre, Pennsylvania, in June 1970. Like countless others across the nation who are left to wonder about a family member's disappearance, Johnson was on a mission to find out what had happened to his mother's sister.
Police entered information and DNA for Lucille Marie Frye and Jane Doe 1970 into a system of databases called the National Missing and Unidentified Persons System (NamUs; pronounced name us). The analysis resulted in the message on the investigator's screen: "Jane Doe 1970 has been positively identified as Lucille Marie Frye."
A new development at NamUs is focusing support and services for American Indian and Alaska Native communities, where law enforcement resources are more scarce and violent crime rates higher than comparable non-tribal communities. The NamUs program has increased training and outreach to tribal law enforcement and will offer support through a Victim Services Unit to families who have reported the disappearance of a loved one. NamUs is also conducting research to increase the number of cases submitted from Indian country and enhance the system with more information. After 48 years, Lucille's family had an answer. They plan to re-bury her this spring, and police have re-opened the investigation into her death.
Tens of thousands of people in the United States go missing under suspicious circumstances every year. These individuals usually disappear one by one, and resolution is often left largely to chance.
Some 4,400 unidentified human remains show up each year, and investigators are unable to find names for about 1,000 of them. On any given day, as many as 100,000 cases are under active investigation. Under the auspices of the Office of Justice Programs' National Institute of Justice, NamUs helps investigators work to resolve the cases they sometimes say add up to a "mass disaster over time."
NamUs is a centralized set of databases that makes connections between records of unidentified human remains and missing persons reports. Initially launched in 2007, NamUs was conceived, developed, supported and funded by NIJ, and is managed by the University of North Texas Health Science Center.
As a nationwide clearinghouse for case information, NamUs is invaluable to authorities working to identify human remains and solve cases.
NamUs has closed 3,308 unidentified person cases and 14,913 missing persons cases. It currently contains more than 26,000 open cases.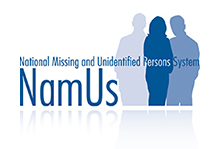 Law enforcement officers, coroners and medical examiners, and professionals in forensic science can enter information and conduct data searches???as can members of the public, often family members.
This month, NIJ is introducing upgraded technology to make NamUs more user-friendly. Enhanced search tools will save time and help solve more cases. A new feature under development will aid authorities who are locating, identifying and reunifying victims with their families during large-scale natural disasters and other critical incidents. And NamUs provides training and skilled technical support to help people trying to bring closure to families.
The NamUs team believes that every missing person deserves attention and every victim deserves a voice.
"NamUs' mission is to give names to the unidentified, and the mission was accomplished for Lucille and her family," Corporal Williams said. "Getting names and information into NamUs is the only way many victims, especially long-term 'cold cases,' will ever be solved."
The effort continues to close the case by determining how Lucille Marie Frye died. Anyone with information is encouraged to contact Corporal Williams at 570-459-3890 or [email protected].