This is an archive of an Office of Justice Programs blog. This page is no longer updated and may contain outdated information and links that no longer function.
Confronting Officer Suicide
Tuesday, October 2, 2018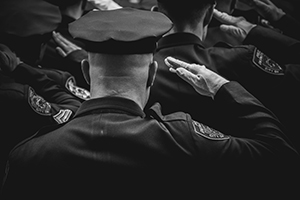 Lt. Michael Pigott was a highly valued and respected member of the New York Police Department who had won many medals for bravery and meritorious duty. Then he made a mistake that derailed his career.
Pigott and the team he led responded to a call involving an emotionally disturbed man. The officers found the man naked, raving and waving a long fluorescent light bulb like a sword. He had climbed out of a window and stood on a second-floor ledge. As the man became increasingly agitated, Pigott gave the order to use a stun gun on him. The man fell headfirst and died. Officers had requested an inflatable cushion, but it hadn't arrived in time.
Pigott's order to use the stun gun in those circumstances violated department guidelines. So NYPD stripped him of his badge and gun, gave him a desk job and assigned a new commander to his unit.
Pigott, who was overwhelmed with regret and under investigation by the district attorney's office, feared that he would be charged with a crime.
Eight days after the incident, in the early morning hours, Pigott got into another officer's locker, took the officer's gun and shot himself. His suicide note read, "I can't bear to lose my family and go to jail."
September was Suicide Prevention Awareness Month, a designated time to acknowledge that this tragedy claims the lives of tens of thousands, including police officers. But we need to be aware of it year round. Officers face challenges unlike those in most occupations. They don't often get the support they need to cope with emotional problems or trauma, which they may experience any day on the job. Untreated, the stress they experience can trigger serious mental, physical and performance-related consequences, including hopelessness, a prime indicator of suicide.
Officer health and wellness is an important focus of the Office of Justice Programs' research, grants and resources. OJP's involvement began as early as the 1996 funding of the "tired cops study."
The Bureau of Justice Assistance sponsors the Justice Department's VALOR Initiative. This program has provided no-cost training on safety and officer wellness, including mental health, to tens of thousands of law enforcement officers across the country. This year, BJA's VALOR Initiative solicitation requested grant applications for a training program in preventing law-enforcement suicide. A 2018 grants solicitation on officer wellness by the National Institute of Justice focuses on the impact of stress and fatigue; on how occupational prestige and job satisfaction affect officer stress; and on reducing officer suicide and traffic-related fatalities and injuries.
The Department of Justice will soon announce grants from these solicitations to equip officers to stay healthy and deal with the constant threats they face.
OJP's efforts also have a behind-the-scenes purpose: scaling the hurdle of police culture.
"There is a stigma that often prevents officers from seeking the necessary resources and treatments and prevents police departments from providing it," says The Signs Within: Suicide Prevention Education and Awareness. The Department of Justice's Office of Community Oriented Policing Services recently produced the publication, in cooperation with the International Chiefs of Police Center for Officer Wellness and Safety.
The Signs Within educates those in law enforcement, particularly leaders, on the risk of suicide. It equips them to recognize warning signs and intervene to help struggling officers. The publication also presents approaches that police departments can use to promote emotional health and stress reduction, such as employee assistance programs, resilience-building activities and training, and psychological services.
Our nation doesn't want to lose any more officers like Lt. Pigott, and neither, of course, do their families. Preparing officers to deal with stress and to maintain their mental and physical health at its peak is a career-long exercise that begins during their police academy training. OJP will continue to do our part.