This is an archive of an Office of Justice Programs blog. This page is no longer updated and may contain outdated information and links that no longer function.
NIJ-Funded Study Examines Teen Dating Violence
Wednesday, November 14, 2018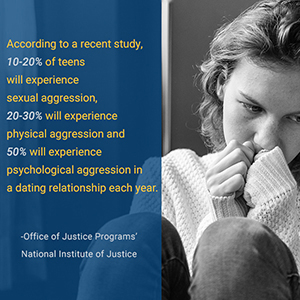 Violence plagues far too many intimate relationships, including those of young people. A recently released study funded by the Office of Justice Programs' National Institute of Justice reveals the prevalence of teen dating violence and focuses on preventing it.
The study, "A Longitudinal Examination of Teen Dating Violence from Adolescence to Young Adulthood," points out that each year, 20 to 30 percent of teens will experience physical aggression, 10 to 20 percent will experience sexual aggression and 50 percent will experience psychological aggression in a dating relationship. These findings are consistent with other data. According to the Centers for Disease Control and Prevention, 23 percent of women and 14 percent of men reported that they first experienced dating violence before they were 18.
This violence can have serious impacts on teens, including mental health problems, suicidal thoughts, risky sexual behavior, sexually transmitted infections and poor school performance. An earlier longitudinal study, also funded by NIJ, followed 1,042 adolescents for six years from the age of 15 and found that teens who carry out teen dating violence are at risk for continuing the behavior as adults. The need for effective prevention and intervention is significant.
The current study's summary presents several policy "implications." First, prevention programs might be most effective if they begin in middle school, before most teens have experienced teen dating violence. Second, without intervention, teen dating violence will likely continue through the teen years and into young adulthood, so it is important that intervention continue through this transition. Third, while most intervention programs focus on the acceptability of beliefs about violence, helping teens develop conflict resolution skills may more effectively equip them to avoid violence. The study indicates that, in view of limited resources, intervention programs should focus on the most vulnerable teens, including those who have experienced violence within their families.
"We believe," writes primary investigator and author Ryan C. Shorey, "that the knowledge gained from the current study has provided policymakers and practitioners with the most up-to-date and critically important information that will be relevant to the development and refinement of [teen dating violence] intervention and prevention programs."
This knowledge may help rescue teens from a lifetime of domestic abuse. For more information about teen dating violence, visit NIJ's website.