This is an archive of an Office of Justice Programs blog. This page is no longer updated and may contain outdated information and links that no longer function.
Supporting Law Enforcement through Tools, Technology, Relationships
Thursday, May 18, 2017
By Alan R. Hanson, Acting Assistant Attorney General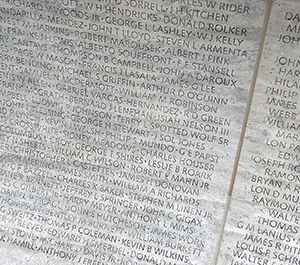 National Police Week, May 14 to 20 this year, draws thousands of law enforcement officers to the nation's capital to honor those who have died in the line of duty, making the ultimate sacrifice while protecting their fellow citizens.
The Office of Justice Programs is dedicated to supporting the men and women who guard our public safety. We protect officer safety by providing grants for body armor and other protective devices. We also provide tools and technology to help police departments fight crime, aid victims and protect entire communities from the effects of violent crime.
OJP's Office of Juvenile Justice and Delinquency Prevention supports engagement between law enforcement and youth as a way to prevent and respond to juvenile delinquency and victimization. OJJDP's Police-Youth Engagement initiative, a partnership with the International Association of Chiefs of Police and the Coalition for Juvenile Justice, supports events and develops tools that foster interaction between police and youth. This year's Institute for Police-Youth Engagement will bring youth together from across the country to join law enforcement leaders and share their thoughts and experiences with them.
In cooperation with the IACP and the Yale Child Study Center, OJJDP just released a toolkit to support law enforcement officers who work with children in the wake of violent incidents in their homes or communities. This new resource, Enhancing Police Responses to Children Exposed to Violence, is designed to help officers identify dangers faced by the young people they encounter and minimize further threats to child and public safety.
Police officers continually interact with victims of crime, frequently as a victim's first and most crucial responder. Our Office for Victims of Crime, in partnership with the IACP, has created the model, Enhancing Law Enforcement Response to Victims. The strategy focuses on agencies' response to victims, particularly those who are often overlooked, or who may fear retribution from an assailant if they speak to police. It provides protocols, resources and training to help law enforcement officers compassionately and effectively meet these victims' needs. The program has been successfully field-tested in 11 pilot sites and is being implemented, evaluated and updated in three medium-sized police departments.
Police officers routinely respond to shootings and other violent incidents, which can have negative impact on officers. We know that ongoing exposure to the trauma of others, known as vicarious trauma, is an inevitable challenge to the health and well-being of law enforcement officers and other first responders. So this year, OVC launched the Vicarious Trauma Toolkit, which includes tools and resources tailored for those who work in these fields. It provides the information and teaches the skills that organizations need to help members of their staff cope with vicarious trauma.
OVC also stands with our law enforcement partners as they grapple with the aftermath of violent and traumatic incidents that affect whole communities, such as the Boston marathon bombings, the Fort Lauderdale airport attacks or the ambush murders last year of police officers in Dallas and Baton Rouge. OVC funds grants to address the collective trauma these events caused, helping law enforcement agencies and communities deal with the consequences of these violent acts. The grants provide for needs assessments, technical assistance and resources that support law enforcement in helping communities heal from high-profile incidents of violence.
Finally, OJP supports law enforcement officers who bring sex offenders to justice. Our Office of Sex Offender Sentencing, Monitoring, Apprehending, Registering, and Tracking, or SMART Office, administers the Dru Sjodin National Sex Offender Public Website. Named in honor of a college student who was kidnapped and murdered by a sex offender who crossed state lines to commit his crime, the website provides immediate access to public information on the whereabouts of registered sex offenders, regardless of state boundaries. The SMART Office provides numerous tools to law enforcement to track and share information across the country regarding sex offenders' domestic and international travel.
The SMART Office established the Support for Adam Walsh Act Implementation Grant Program to help law enforcement agencies fulfill the requirements of the Sex Offender Registration and Notification Act, or SORNA. So far this grant program has awarded $99 million to state, territory, local and tribal jurisdictions to register and obtain biometric information on sex offenders and notify communities of sex offenders living, working and attending school in their localities.
In today's complex world, it takes all of us, working together and supporting our law enforcement officers, to achieve the safe, healthy communities our citizens deserve. OJP is proud to give our nation's law enforcement agencies the resources they need to do their jobs safely and effectively. They work hard to protect us, putting themselves in harm's way each and every day, so we owe them the very best that we have to offer.
During Police Week, and throughout the year, we stand with them.